All right, here are my list and my inspiration pictures.
I have divided my list into 3 categories. I hope it makes sense to you.
1. Problems To Fix
*Extension cords everywhere
*Curtains don't slide open, they have to be tied back every day.
*Fish tank takes up to much space
*Mirror and desk not working
*Bedding needs to be adjusted or changed
*The school table rolls all over the place
*Layout of the room needs to be looked at
2.Things to Sort
*My clothes
*Quentin's clothes
*Bridget's clothes
*Zoe's clothes
*Shoes
*Office supplies
*Fabric
*C
raft stuff
*School shelf
*Sewing shelf
3.Projects to Finish
*Prime and paint the closet
*Prime and paint the chair
*Make a coverlet for the chair
*paint shutters
Lots of things to love about this picture by Amy Meier Designs. She was featured in the January issue of Better Homes and Gardens. I love the Ikea shelf. My dark wood shelf that holds the fish tank is the smaller version of this exact shelf. I love the way she displayed her fabric in the wire baskets
.
Great use of vertical space.
The coat rack is amazing! Quentin got me railroad spikes for Christmas so he can make one for me. I have the perfect piece of weathered wood in the garage just waiting.
I love this kitchen from Pure Style Home. The shelves are so unexpectedly simple, and yet they work so well. I also love the chalkboard fridge. Maybe a chalkboard somewhere in my room?!?
This is from Pure Style Home as well. So simple!!
There are my shutters again.
photo via alifesdesing.blogspot.com
Restoration hardware! I love all the contrasting shapes and the symmetry.
I love the white drapes, urn and greenery. This is from Pottery barn.
I have always loved this room done by Sarah Richardson from Design Inc.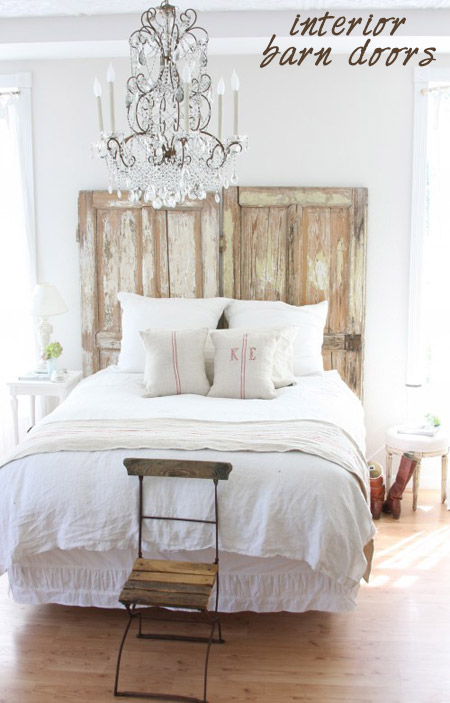 Photo via creamylife
These clipboards are great. This is from a 2008 issue of Martha Stewart magazine.
Simple, beautiful, and great use of color!
I think I will start by sorting my fabric. I love the wire basket idea from my first picture. I have 3 or 4 in various parts of my house. Pictures tomorrow of how it went and what I came up with.
Happy sorting!